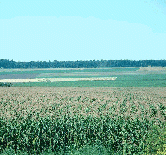 Sampson Farm s produces a myriad of agricultural crops. In addition to typical agricultural row crops we produce specialty food crops. Sampson Farms produces sweet peas and sweet corn on over 5000 acres in Renville County for Seneca Foods. You may be more familiar with the consumerís brand name Green Giant.
Sampson Farms in Renville is a member and produces sugar beets for the Southern Minnesota Sugarbeets Cooperative.
Sampson Farms in southern Minnesota produces a large harvest every year of fine alfalfa hay for our cattle and thoroughbred farms.
Sampson Farms, Agri-Products group in Aitkin Minnesota also produces forage products. The farm has produced as many as 4,500 large round bales of mixed and reed Canary grass for cattle feed. The farm has also grown vegetables and crops such as corn, wheat and oats. In the spring of 2001 the farm will
seed a new soybean crop being developed for zone 3, utilizing innovative no-till seeding methods.
Sampson Farms is a major investor in value added cooperatives in Minnesota. We are strong believers in reinvesting in the community to enhance local growth and local economy. Sampson Farms has invested in Minnesota Energyís ethanol plant in Buffalo Lake Minnesota. We are also investors in the Golden Egg production facility in Renville county, Minnesota, The Minnesota Corn Processors facility in Marshall, MN manufacturers of corn-sweeteners and the Minnesota Valley Alfalfa producers group in Willmar, MN.
Call Sampson Farmís business manager; Mr. Russ Sampson (952) 440-6682