Sampson Farms has over 2000 acres of Turf Grass capacity at our Aitkin Facility. We have available over 200 acres of sod in 2002. We will be seeding another 170 acres for harvest in 2003, giving us a total of 370 acres and giving us approximately 1.7 million million yards of sod in 2003. We will expand to 450 acres in the following year allowing us to offer over two million yards of Turf Grass available. Our plans include building to over 5 million yards of maintained availability.
Sampson Farms uses Scotts commercial seed exclusively so that our customers receive the very finest Kentucky Blue Grass possible. Our farm has a very high humus peat soil base, so our agronomist can assure you receive the hardiest and highest quality sod possible.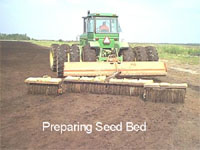 We are seeking business clients desiring a long-term relationship. You may purchase sod that we harvest for you, or arrange to do your own harvesting. We also offer a Partnership Grower agreement where we will seed committed acreage for you. In addition, we can supply quality topsoil equivalent to the soil in which we grow our own sod. This will ensure your customer's lawn has excellent growth from the start.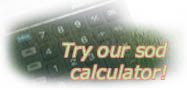 If you are an applicator/installer, please call us to find out more about our sod, our Partnership Grower agreement, or our top soil availability. We are equipped to acquire, maintain and monitor your shipping needs.
Call us at: 218-927-5432